Android 13 still has a tiny share of the market, despite the abundance of new phones that come with it pre-installed and the longer updates support from Android manufacturers following the trend initiated by Samsung. As Google's latest distribution numbers show, Android 13 only enjoys a 14.7% share and is eclipsed by Android 11, the OS that was released back in 2020.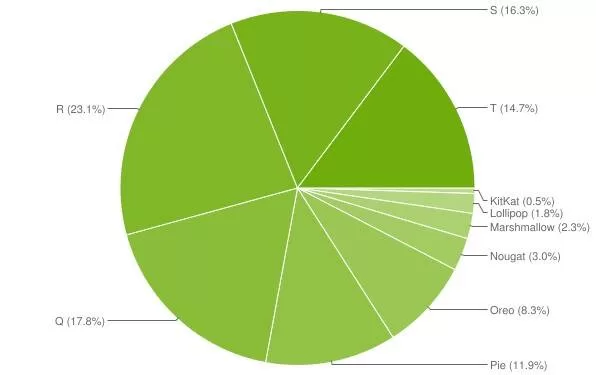 Compare that to Apple, which also recently updated its distribution numbers. 81% of all iPhones now run iOS 16, Apple's latest version of its proprietary mobile operating system, while 71% of all iPads now run iPadOS 16. The company has also shared numbers for iPhones released in the past four years, highlighting that 90% of them now run iOS 16.
On the plus side, Android 13's adoption did increase modestly over the month of May, rising from 12.1% to 14.7%, which means that nearly 15% of all active Android devices now run on the latest update.
Meanwhile, Android 12, 11, and 10 have each seen slight declines as people upgrade to newer versions. Weirdly, Android Oreo moved up from 6.7% to 8.3% in just a month and it isn't clear why.
Google has been making efforts to make it easier for OEMs to deliver the latest version of Android faster to supported devices. Some of the initiatives the company has undertaken to improve adoption are Project Treble, which simplifies and expedites how updates are delivered to the Android ecosystem and Project Mainline, which enables Google to update core OS components through Google Play.
Sadly, these efforts have only translated to meagre improvements in adoption rates, as clear from the above charts.
Meanwhile, Apple's closed ecosystem, limited number of device models, greater control over the update process, and lengthier software support continue to beat Android at the update game.